Introduction
---
At first, BagPipe software has been created for helping Great Highlands Bagpipes players to :


Compose tunes scores :
select note value using the mouse wheel (or Next/Previous keys) then click on the staff to engrave the note,

as an option, sound of the note can be played as the mouse moves on the staff,
some embellishments are available via keyboard shortcuts (HA, HG, E and D grace notes, doublings, birl, Taorluath).
because notes are automatically grouped when is is possible, let use "breaks" (b key) to split a group.

Digitalize existing scores, scanned as GIF files.
Transpose scottish scores into breton notation and vice versa.
Import ABC and BWW files, exports ABC files.
Highlight score parts, as with a "stabilo boss".
Put annotations on the scores.
Produce PDF printable files.
Help learning a tune or play duo with the computer :

Play the tune with the GHB or the practice pipe sound :

the whole score, taking or not into account repeat signs,
a selected part of the score,
or starting from a note.
one shot or continuous playing

Grace notes and embellishments notes have the same duration ; it is tunable.
All grace notes and embellishments are maskable.
Silent reading : in this mode, no sound is played but notes are visualy played, as in a karaoke.
Optional repeats playing.
Optional pipe band start and ryhtmic with drums.

Offer optional visual representation of the fingerings.
Learn to tune your drones with your chanter, thanks to realtime spectrograms.
Record yourself using the "parrot" mode : no need to hit the keyoard neither to clik ! Just play : recording starts automatically when the input level is high enough, then stops after a long enough silence. Then the recorded tune is automatically played. When it finishes, let just play again.
Two metronomes availables : a built in one and a standalone one.
Evolution
In a second time, the software (beginning with 1.3 version) has been opened to other wind based G clef instruments :

Extended scale (19 notes).
Accidentals.
Rest signs.
Modifiable key signatures (breton mode only).
Optionnel background bass drum rythmic and "pipe band" start.
Possibility of changind time or tempo at each staff.
Staffs justification.
Configuration of characters fonts and colors.
Scales samples can be provided by the user.
With 1.4 release come mainly :


Hight quality graphism (notes antialiasing).
Tunes lists.
Embelishments custumisable palette and user's keyboard shortcuts.
Batch export of a whole tunes folder to a mobile device (PDF and WAV files generation).
One can compose and listen multi voices tunes, for multiple instruments.
One can compose and listen specific voices for the snare drum.
Main window - scottish notation (click to enlarge)
Main window - breton notation (click to enlarge)

Audio example : "High Road to Gairloch" (BagPipe's WAV export file encoded to MP3)
PDF generated file (click to enlarge)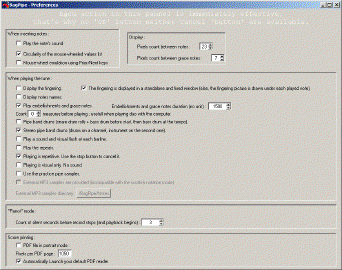 Preferences pannel (click to enlarge)
Embelishments palette
Miscellaneous

The software is made of a single executable file, so no installation/uninstallation are needed.

Because BagPipe is writen in TCL/TK, it works on Windows (98/2000/XP/VISTA/Seven/8/8.1), Linux, MacOS / Intel / Darwin (Tiger, Leopard, Snow) and Android.

BagPipe is free of charge and free of use.

What BagPipe can't do :

ABC standard format is not fully supported, so reading of non BagPipe's written scores could fail.
BWW standard format is not fully supported, so some embellishments could be ignored. In such case, a debug message explains it.
I am thinking about an ANDROID version.

Don't hesitate to contact me in case of bug or issue ; I'll answer very quickly and fix it asap.
| | | |
| --- | --- | --- |
| | Powered by the freewares TCL/TK, BWidget, Snack, tkPath, tkhtml and FreeWrap | |
BagPipe is free of charge and free of use.
By an other hand, if you enjoy this software and wish to support me, you can make a cash donation using PayPal.

| | | |
| --- | --- | --- |
| | | |
| | The standalone metronome. | |
| | | |
| | | |
| --- | --- | --- |
| | | |
| | The drone's tunner. | |
| | | |


In addition to Bagpipe …
PocketPipes an iPhone/iPad application to play and display bagpipe music scores.
See more at http://pocketbagpipe.fr/en


In the same way, Guitar Tab Viewer ...
This Andoid application allows you to view Guitar pro tabs (Guitar pro 1 (gtp), Guitar pro 3 (gp3), Guitar pro 4 (gp4), Guitar pro 5 (gp5) et Guitar pro 6 (gpx)) or PowerTab (ptb) and turns your mobile device into a music notebook!
As songsterr!
See more at https://play.google.com/store/apps/details?id=eu.lequem.sgptviewer